Shopping with artificial intelligence? What's the Future Like?
Retail is constantly evolving with artificial intelligence (AI) changing the way things can be bought and sold.
Through inventory robots can automatically fill product shelves and sensors can track customer traffic patterns to identify store layouts. Cross-selling and digital signage opportunities can be tailored to specific audiences, providing up-to-date information to motivate consumers, such as alerting them when stock is running low.
Augmented reality (AR) also enhances the retail experience in shopping. In home appliances, consumers can upload pictures of their rooms and redecorate them using AR to see different color schemes and choose the appropriate accessories, suggested by the computer. Similarly, in clothing, consumers can upload their images to "try on" clothes and artificial intelligence can match accessories to match clothes, not only cross-selling but also providing customers with styling services.
AI pandemic push
The pandemic is accelerating the integration of AI into retail as it facilitates contactless shopping. With AI "computer vision", you can accurately "see" items in a customer's cart and calculate the cost, eliminating the need for check-out staff to manually handle each item in order to scan barcodes.
French retailer Carrefour launched an AI-powered store in Paris in November 2021, called Flash 10/10, because it takes "10 seconds to shop and 10 seconds to pay", and customers have access to "900 items in an instant." .
Customers are tracked anonymously as virtual avatars, allocated to them as soon as they enter the store, equipped with 2,000 built-in, shelf-mounted AiFi sensors and 60 AI-powered cameras on the ceiling, all registering item selection.
When a customer picks up a product, it is automatically added to the virtual shopping cart. When customers finish shopping, they validate the purchase by going through the checkout terminal and making a contactless payment.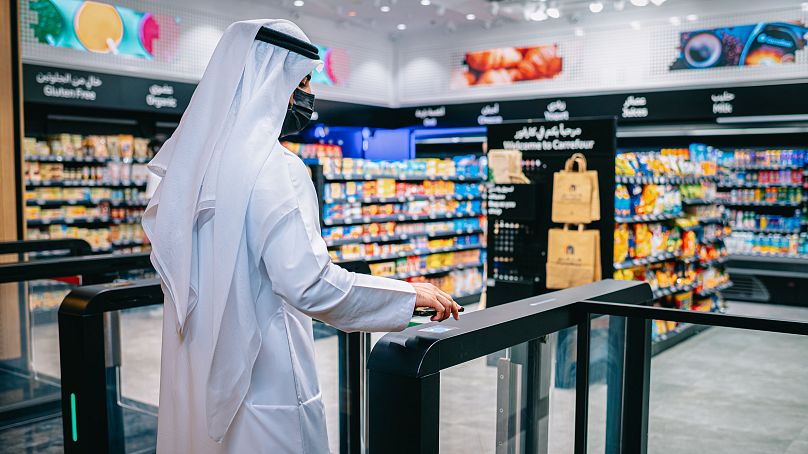 How does an AI-powered store work?
In September, the Middle East's first artificial intelligence-powered store, Carrefour City+, opened at Mall of the Emirates, Dubai, in the UAE.
Here, the check-out process has been eliminated. Customers use their mobile phones to access the store, which registers them upon entry. Once inside, the AI camera detects and adds the selected item to the customer's digital shopping cart, and the purchase is completed simply by exiting the store.
UAE-based retailer Majid Al Futtaim is behind this cutting-edge retail experience, which is designed to "facilitate fast and contactless shopping" using AI technology.
Data mining risks
Data is a goldmine for retailers who can accurately turn data into insights that inform the most profitable actions for businesses.
Marketers AI is currently collecting (aggregating) a number of data from buyers and searching for keywords and information to be able to target consumers with suitable products in the future.
For most consumers, being targeted online can be more rewarding and less distracting, but AI-powered shoppers can fall victim to spam or something more serious designed to lose some of their money if their data is misused by advertisers or cybercriminals. .
In Europe, there are laws to protect the public from aggressive marketing and invasions of privacy. Under Article 8, Protection of Personal Data, everyone has the right to the protection of their personal data. The article states: "The data must be processed fairly for a particular purpose and on the basis of the consent of the person concerned or some other lawful basis established by law." However, outside Europe, laws vary and do not apply at all in criminal circles.
Sumber : https://www.euronews.com/