Best CMS Digital Signage 2022
The best digital signage CMS makes it simple and easy to use digital signage to advertise your services or present information. The difference with digital signage is that you can display video, sound, graphics, animation, and more on monitors, projectors, and other multimedia devices.
But to really take advantage of this smart technology, you'll need the best digital signage software to accompany your hardware, allowing you to control multiple displays remotely.
CMS digital signage is a bit of a niche topic and this article could be one of the first to read about the technology. That's why we've made it as simple as possible for you to learn about the best digital signage software available so you can make an informed decision about the right product for your business.
Novisign
One of the best with professional digital signage solutions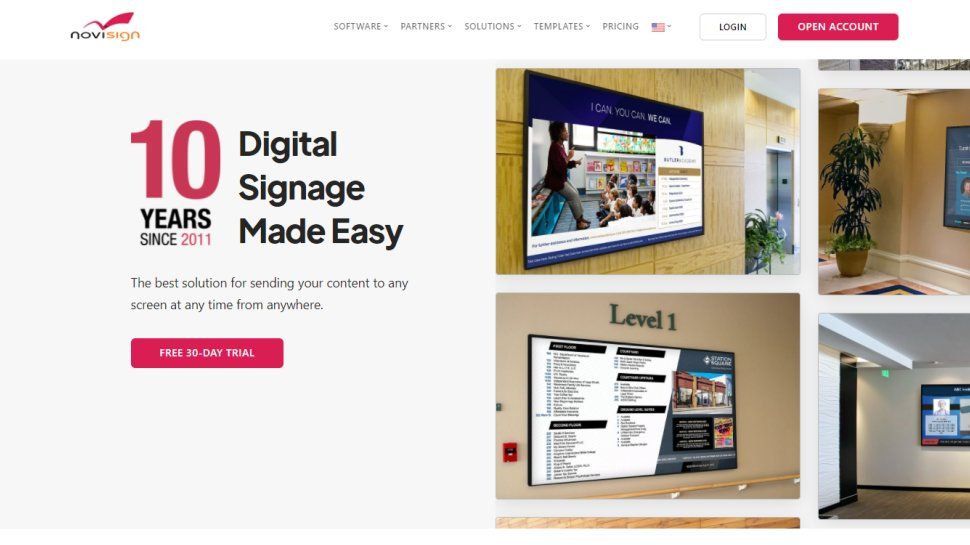 With more than 20,000 clients including enterprise customers such as Disney and Hilton, NoviSign is one of the major solutions in the digital signage CMS industry.
NoviSign allows users to generate bespoke high-end displays using pre-built and customizable templates. The templates are sorted by sector, such as hospitality or retail, and make it very easy to create a professional look regardless of technical ability.
The interface is very simple to navigate and is divided into three distinct sections, Creatives, Playlists, and Screens. Information is easily integrated into views via RSS, widgets and apps, while all text and images are also fully customizable.
Yodeck
Easy-to-use cloud-based platform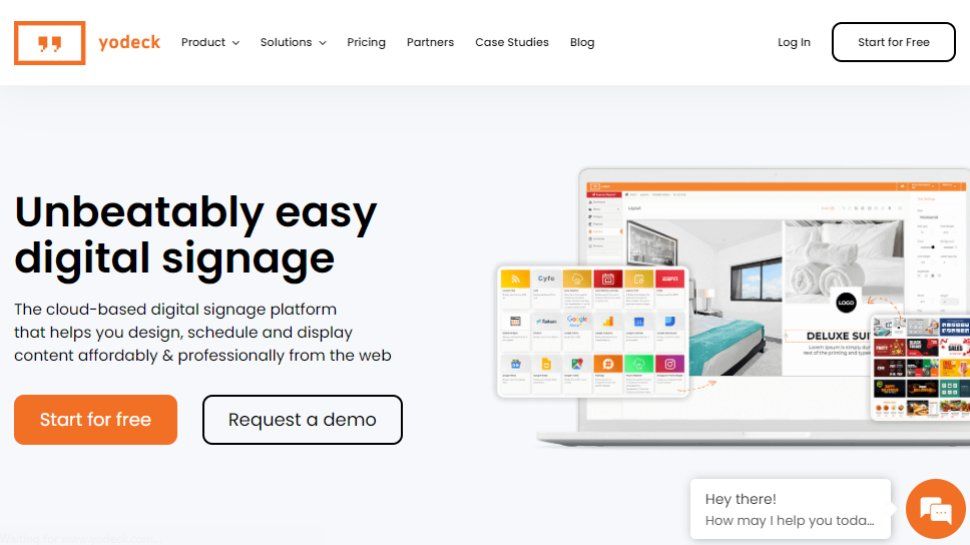 Yodeck dipasarkan sebagai solusi perangkat lunak signage digital yang "lahir dan dibesarkan di Cloud." Secara teori, ini Yodeck is marketed as a digital signage software solution "born and raised in the Cloud." In theory, this means that with everything available on demand, the service is fast and reliable, and that's how Yodeck markets itself.
However, to run the single monitor "free" service, you'll need to purchase the Yodeck Player – based on the Rasberry Pi. Either that or run Yodeck on your monitor for free by configuring your existing Rasberry Pi, something that will confuse most first-time users, and which isn't fast at all.
Alternatively, annual plans start at a monthly rate per screen, and subscribers receive an unlimited number of users for free.Alternatively, annual plans start at a monthly rate per screen, and subscribers receive an unlimited number of users for free.
Platform ini memiliki semua fitur dasar yang diharapkan seperti kompatibilitas video dan audio, serta sejumlah widget yang memungkinkan Anda melakukan streaming konten dari penyedia pihak ketiga, termasuk BBC dan CNN.
Antarmuka Yodeck cukup jelas dan monitor penjadwalan sangat sederhana, dengan template yang sudah ada.
OnSign TV
Perangkat lunak signage yang mudah digunakan dan mudah digunakan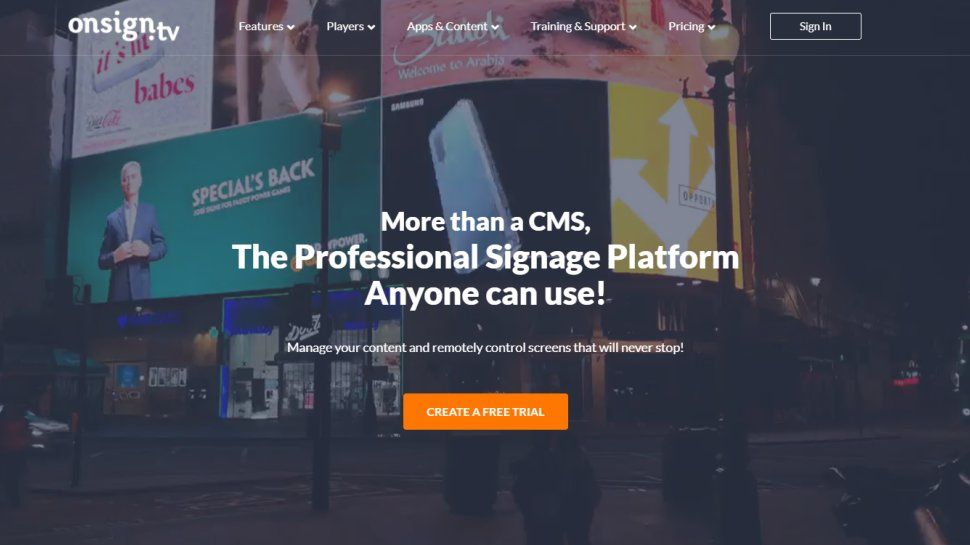 OnSign TV is an easy-to-use digital signage software compatible with multiple operating systems including Android, Windows, Chrome OS, macOS, Phillips, Linux Samsung SSP, and more.
OnSign TV provides a complete list of compatible users and the hardware required for them. Our advice is to study this first or search your existing equipment before starting.
Once set up, this technology is very user friendly. OnSign TV is supported by a variety of free applications that display a wealth of information, from sports results to local weather forecasts. There is also the option to build your own app in HTML5 or ask the platform developer.
The interface works on a drag-and-drop basis, so you can drag the content you want, whether it's apps or other media, and schedule your monitor to play it.
Telemetry TV
Affordable digital signage CMS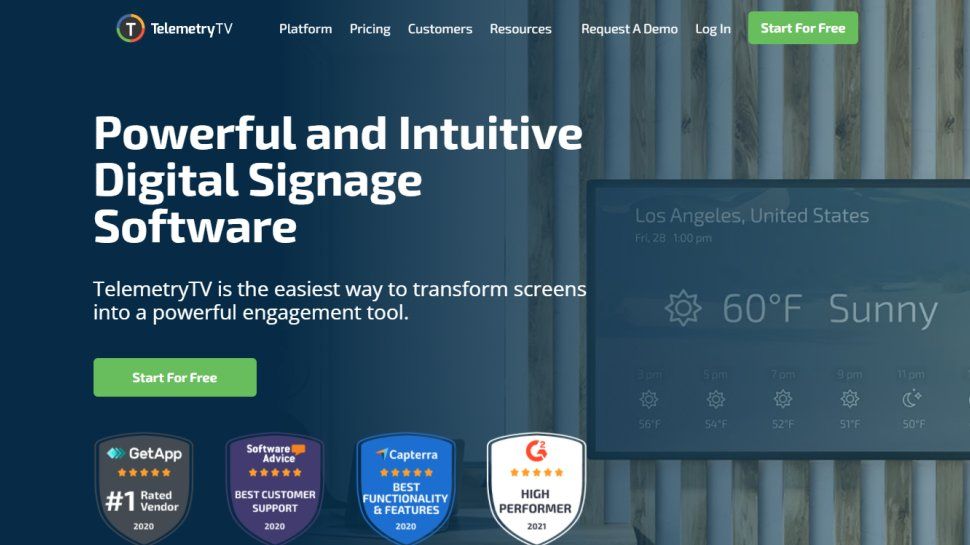 TelemtryTV is a great digital signage cms option for users on a tight budget, with the free version for one user limited to one device. The Essential plan is designed for an upper-middle audience and costs per device for up to three users. The Upgraded Plan caters to 5 users and there are also custom options.
When registering, it is recommended that you download the desktop application for your OS. Alternatively, you can access the interface via your browser.
The standard browser interface is impressive. It is well designed, and clearly marked.
The home page is packed with video tutorials to get you started, but the interface is pretty self-explanatory once you click on the Playlists section.
That said, tech-savvy users will get more out of the platform. It is possible to create basic views using the built-in editor, but more advanced users can use technology to achieve highly professional results.
Viewneo
CMS digital signage with hardware solution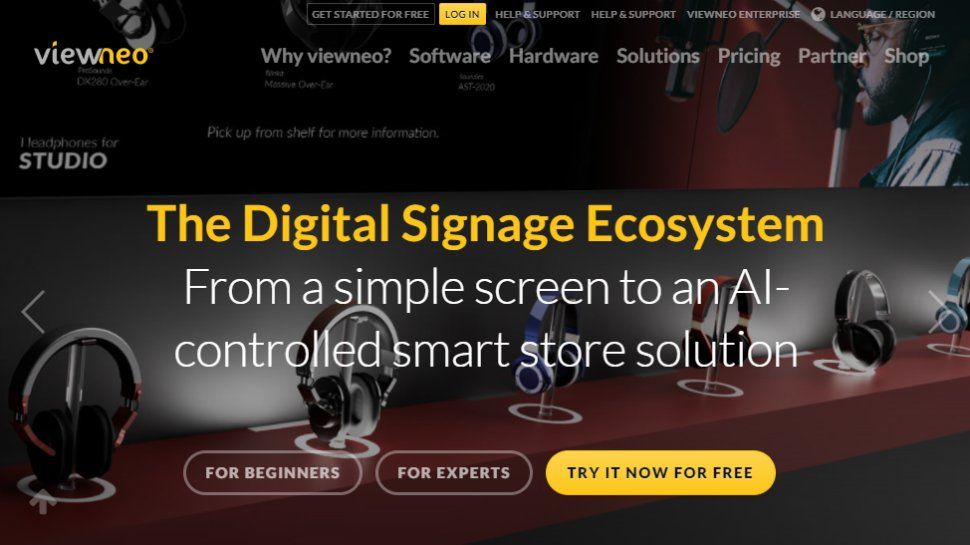 Viewneo combines software with optimized hardware solutions, including AI-powered sensor technology to determine when your monitor displays a message.
A modular system, Viewneo grows at the pace of your business, and it is possible to add and remove components depending on the size and complexity of the display you require.
The software includes Pixabay integration, which gives you access to over two million images, design templates, tons of plugins for social media, weather, news feed, and more. You'll also find comprehensive reports and analytics that allow you to use technology to measure engagement with your messages.
The CMS is very clear and easy to use, with minimal tabs and subcategories, so first-time users should have no trouble getting started. Finally, although the platform pushes its own hardware, the software is compatible with other players, including the Amazon Fire TV Stick and Google Chromecast.